To save a workbook to the Analyticsolver.com web interface, please do the following:

Go to the Solver Home tab

Select Save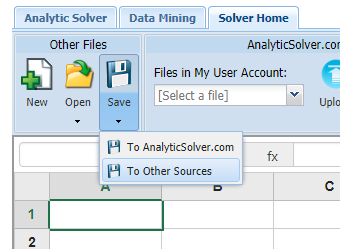 Select To Other Source to save the workbook directly to your system. The workbook will be downloaded automatically to your Downloads folder and be saved as a .xlsx file.
Select To AnalyticSolver.com to save the workbook to the web interface for access to it later from the same or different machine while working in the web interface.
If you experience any issues pre or post save of your workbook, please let us know via email to support@solver.com or start a live chat from www.solver.com.