To upload a whole workbook to the Analyticsolver.com web interface, please do the following:

Go to the Solver Home tab

Select Open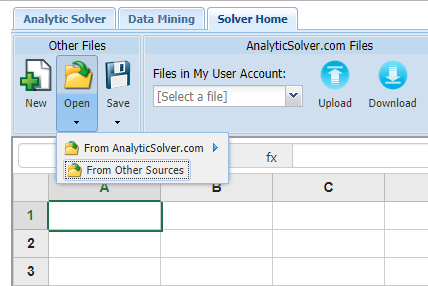 Select From Other Source
This should open a File Explorer window on your system. Navigate to the file you wish to upload, select it and click Open.
The web interface will then attempt to upload and "open" the workbook. Please note the following limitations:

The workbook must be saved in .xlsx format.
The workbook must have less than approximately 50,000 "filled" cells. Occasionally, data may be entered in a cell well outside the range of what a user expects, and every cell between the first cell (A1) and that "far away" cell will attempt to load, causing the browser to fail the upload.
The workbook can not contain any external workbook references.
If you experience any issues pre or post upload of your workbook, please let us know via email to support@solver.com or start a live chat from www.solver.com.